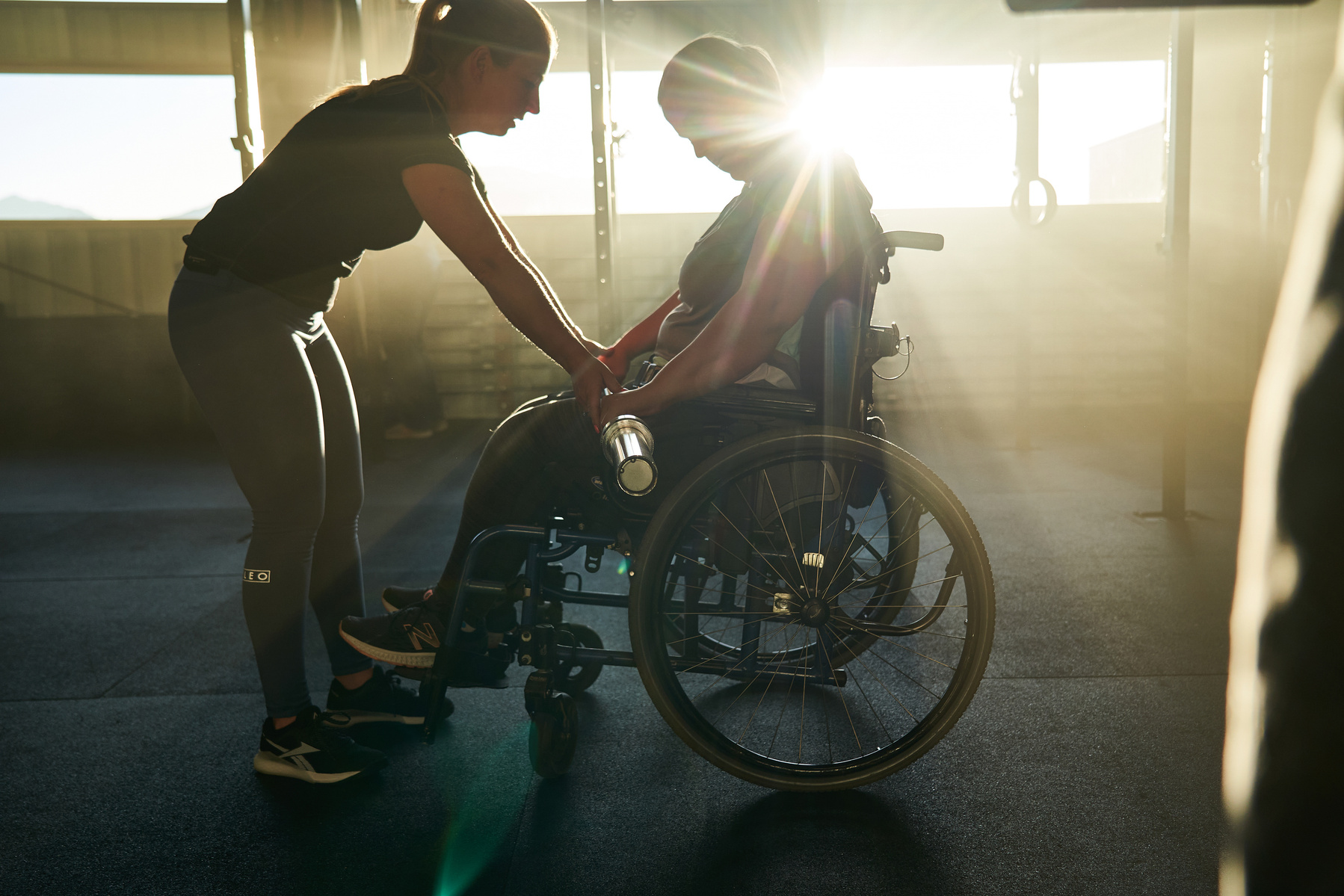 Growing up in Leadville, Colorado, I would stare out my window at the 14,000 ft. peaks just a few short miles away. These mountains seemed like an ironic challenge, and I thought "How am I ever going to find a way to live a life that I deserve?"
My name is Melissa Simpson, and I am 29 years old. I was born three months premature, weighing in at 1 pound, 15 ounces. I spent the next three months in the NICU at Rose Hospital in Denver, Colorado. During this time, I was hooked up to several machines, including a ventilator to support my underdeveloped lungs. Due to my prematurity, my doctors diagnosed me with Cerebral Palsy, a brain injury that occurs, before, during, or after birth. There are different levels of severity of Cerebral Palsy, and mine is spastic diplegia, which produces high muscle tone, especially in my legs and hips. I use a wheelchair to get around, and will for life.
This life I have dreamed of took many years to develop. It wasn't until I graduated from Colorado Mountain College that I knew I wanted to be a part of something bigger than myself. On May 5th, 2017, Erik Weihenmayer, blind Everest climber and adventurer, delivered our commencement speech, and changed the course of my life forever.
Erik's speech was really powerful to me, especially when he talked about overcoming his own barriers, from slowly going blind, to losing his mother at a young age. This speech ignited a flame within my soul to expand the parameters of my life. I thought "Wow, what can I start doing to overcome my own barriers?" Just when I was at a crossroads this particular speech opened a whole new chapter of life for me. Since graduation, I've been a proud participant and volunteer for a non-profit organization called No Barriers USA, whose motto is "What's within you is stronger than what's in your way."
Since joining No Barriers, I have never felt more free of my disability. In June of 2019, I attended my very first No Barriers Summit in Lake Tahoe, California. There, I was not judged or looked down upon, nor was I told I couldn't participate in an activity. Over the duration of this wonderful summit, I participated in an array of barrier breaking activities. For example, I participated in a VIP hike utilizing a Grit Freedom Chair, allowing me to roll through and navigate rocky terrain which had previously been inaccessible to me. The fun didn't stop there, I also tried out adaptive rocking climbing with Mark Wellman, adaptive biking, "Feel the Music" with Mandy Harvey, and a workout with Whitney Way Thore. However, the whole time my mind was going back to the Grit Freedom Chair, and I wondered how I could use one to achieve a lifelong dream in my home state of Colorado.
Upon my return home from the summit, I was fired up to continue my outdoor adventures. My hometown in Colorado is not very accessible for people who have disabilities, and gaining access to the beautiful outdoors has been a struggle for many years. As I mentioned, I utilize a manual wheelchair for most mobility activities. However, this chair is a pain to navigate through any rough terrain, which in turn restricts my ability to fully immerse myself in nature. There was just one problem with upgrading - I couldn't afford a Freedom Chair on my own. So, I reached out to the folks at the Challenged Athletes Foundation and Vail Health Foundation, who eventually approved my application for a grant. It was official, I'd be getting my own Freedom Chair! I am so grateful for the people that made this possible - I could finally enjoy nature to its fullest without struggling.
I received my shiny new chair last June, and have been putting it to work ever since. Erik and I had discussed climbing a peak together when I got my chair, so no sooner had it arrived than we put together an expedition, with the goal of summiting a 13,100 ft. peak visible from my house. Due to the strenuous nature of our goal, it was a necessity to gather the right rope team - I had to be able to count on everyone with me to summit together and work as a unit. From planning to execution, the climb was a 3 month process, and I had to focus on my training, nutrition, stamina, and workouts at maximum effort the whole time. Everyday, I was either training in the freedom chair, doing workouts at home, or hitting the gym to work on arm strength, cardio, and my overall strength and conditioning. I also completed some practice Freedom Chair sessions with Erik, Jeff, and Skyler, a few of my team members for the big day. The night before the climb, I sat down with them to have a serious discussion, covering a map of where we were going to climb, and details about what could go wrong and what could go right. I felt mentally prepared crawling into bed that night, knowing my team and I had done everything possible to control what we could.
On a crisp fall morning, my 9-member rope team and I set out for the summit. Our crew included three blind people, as well as some people that dealt with anxiety, depression, and other barriers. The objective was a beautiful peak near Columbine mine in Chaffee County, Colorado - I had stared at this peak my entire life, barely daring to dream I could ever stand atop it. The beautiful day started with a few technical difficulties, but we pioneered our way through. In a particularly ingenious move, Jeff duct taped the back handlebars of the freedom chair to prevent breaking and blistering. As we started climbing higher I felt fatigued and had a little bit of shoulder pain, but my team kept rotating through and inspiring me to stay strong.
Just a few hundred vertical feet below the summit, we stopped at a high point on the ridge, where Erik and Jeff explained that I had two paths to the summit in front of me. One path was hard, and the other was even harder. Faced with this choice, already totally exhausted, I dug deep and chose the more difficult path, knowing this was my No Barriers moment. From the saddle to the summit, it was all hands on deck, requiring a 100% effort from my team and I. Members of my team surrounded me on all sides, making sure I didn't tip over or head into the ditch. There were gigantic rocks that members in front kicked to the sides of the trail. As we approached the summit my team made the quick decision to lift me in freedom over some gigantic boulders. I am not going to lie, those were scary and tenuous moments. Although I felt secure, I also felt a little uneasy because I had never been lifted over boulders. However, that feeling quickly subsided as we crested over the ridge and reached the summit at 13,100 feet! The feelings I had at the summit were pure joy and self confidence.
Standing up at the summit with assistance and looking across the Rockies, I felt like I had awoken from a dream. This was something I had wanted to do for a very long time, and it had finally come to life. All my work and determination had paid off to create the experience of a lifetime. While on top enjoying the views, Erik gave me a No Barriers coin, a special token exchanged between two people when one feels "elevated" or inspired by the other's actions. I was very emotional as I knew I accomplished one of my biggest dreams thus far. Furthermore, I knew that I proved to myself that even though I have Cerebral Palsy I was not going to let that peak be another barrier. The peak tried to get the best of me, however, with determination and strength I showed it who's boss! Another moment that was emotional was when Skyler turned me around to see that little dot that was my hometown. When I realized how high up we were, I knew this was no longer a dream, but reality. Moreover, I had a rockstar rope team and I knew we had all tapped into the No Barriers motto, "What's within you is stronger than what's in your way." Standing on top of the unnamed peak, my team decided to give it a name right then and there: Mt. Melissa.
Erik's speech was just the beginning of my No Barriers journey. Growing up, I was faced with many barriers that I had no control over; I did not choose to have Cerebral Palsy. However, I have been learning how to live with it and have fun in life. Slowly but surely, with the help of my friends, family, and supporters - most of all, my mother - I am starting to learn how to break through my own barriers. So what's next on my adventure list? After standing on the summit of Mt. Melissa, I know the sky's the limit.


Melissa Simpson


Melissa Simpson is an adaptive athlete based in Leadville, Colorado. Diagnosed with Cerebral Palsy at birth, she has now stood atop a 13,100 foot peak in her home range of the Rockies. She's a graduate of Colorado Mountain College, and spends her spare time training CrossFit in preparation for her next mountain adventure. For more information about Melissa's partners, visit www.nobarriersusa.org and www.gogrit.us.