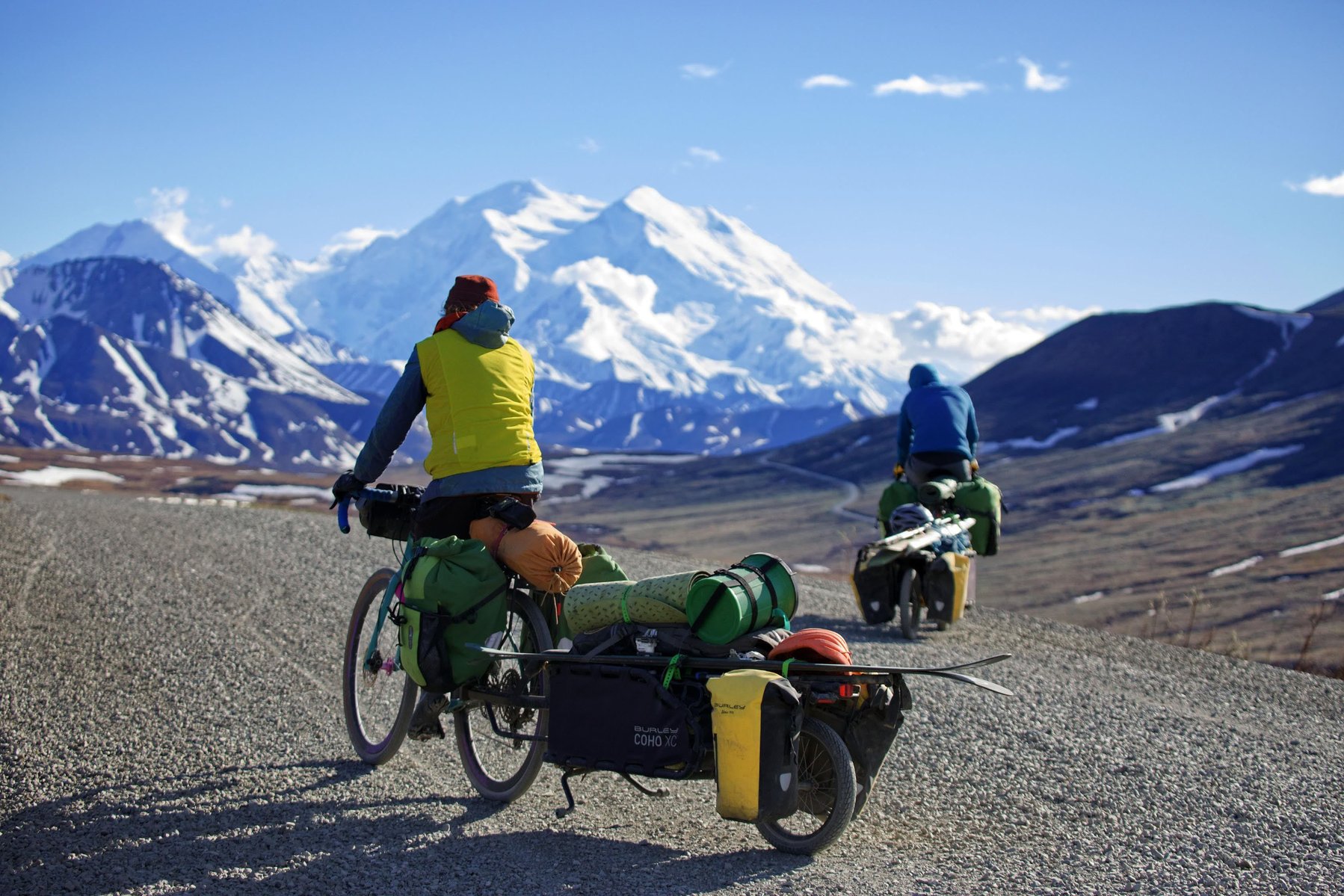 Clay James and I set off on bicycles from our driveway in Salt Lake City, Utah on March 20th, 2019. We had our sights set on pedaling to Alaska with all of our mountain gear, then climbing Denali's Muldrow Glacier and skiing down the West Buttress, 100% human-powered. We scheduled our orientation with the Denali National Park Service for May 20th, allowing ourselves 60 days to pedal 3250 miles. We then planned for 30 days to traverse the Alaska Range.
We hauled a one-wheeled Burley Coho XC trailer loaded with a 70 liter dry bag and panniers packed with all of our ski and expedition gear. The bikes weighed 160 lbs each, not including food. Focused on the adventure more than the reality of what we were undertaking, we didn't test the setup before pushing off, except for one quick spin around the neighborhood to make sure the bikes would roll. With our bags packed, we set off bombing down the first big hill less than a mile from our home. The rigs proved very unstable and all of a sudden we were doubting our ambitious plan. It took everything we had to keep the bicycle and trailer upright.
We also didn't do any research to see if it's legal to ride on interstate 80… whoops. We spent hours trying to figure out how we were going to get our bike and trailer combo around the Oquirrh mountains without getting on the freeway. We were failing miserably from the get-go. Steep dirt roads with loose gravel halted us in our tracks, forcing us to disassemble the setups and toss them over a barbed wire fence onto I-80. We rode on the shoulder next to oncoming traffic for a few miles and got off at the first exit. Clay suggested we stop and redistribute the weight onto the frame of the bicycle with hopes that it would stabilize the speed wobbles. Rearrangement commenced and on the first ride around the parking lot Clay starts yelling "this is working!" It still wasn't easy, but it was a lot more manageable. We also discovered that you are indeed allowed to bike on I-80, so we got back on the freeway. We were just figuring everything out as we went.
We continued west to the intersection of Highway 93 North. This two lane highway was the most dangerous stretch of road we encountered, with a shoulder hardly wider than the deteriorating rumble strip that ran down the middle of it. Big rigs ripped past us at 70 miles an hour. One morning we woke up north of Jackpot, Nevada and it was puking snow. The thought of pedaling on the narrow rumble strip buried in six inches of snow sounded deadly, so we laid in our tent waiting for the storm to end. After a few hours, the snow subsided and we got back on the road. It turned out we'd camped on a pass and the road was dry just a few miles ahead.
After being stymied constantly the first week, we were finally starting to find our mojo. We'd proven to ourselves that 60+ mile days were achievable, our handling skills were improving rapidly, and we were finding the flow on the long climbs. Pedaling on the highways was much faster than the back roads we'd planned. We committed to the faster pace by taking I-84 west to La Grande, Oregon, where we rallied to the local bike shop to get Clay's grinding bottom bracket fixed. The owner was so kind to do the repairs at no cost and even gave us a tip to head north to the tiny town of Summerville. This would take us up and over the Blue Mountains on a scenic by-way route. The detour saved us time and was much more pleasant than the noisy freeway. It was a quiet, scenic, and beautiful ride through the rolling hills of Oregon.
We stopped at the tavern in Summerville for a beer and a burger and quickly got sucked into a happening small town Friday night. I asked the bartender if we could pitch our tents out back and offered to sweep all the peanuts off the floor at closing time in exchange. She happily agreed. While socializing we met the local legend Russell Smith. Russ is a die-hard skier at heart, and was giddy to recount some of his most memorable powder days. He picked up our tab for food and beer that night and went so far as to buy our breakfast the next morning. We began to realize this journey was not all about the biking and skiing. The story was being written by all of the incredible people we were meeting and conversations we were sharing. We were constantly filled with gratitude when pedaling out of a town after sharing a meaningful chat with a local.
We made it up the Columbia River valley to the Canadian border crossing in seventeen days. We were crushing miles every day and sleeping at least twelve hours every night. Life was pretty simple: Eat, bike, eat, sleep, repeat. Carrying that much weight was a drag at times and made it very easy to fall into a blue funk, but making jokes, laughing, and finding gratitude in the present moment lifted us up in the hard times. We realized early on that this was going to be difficult, but it would be even more mentally taxing if we complained about it to each other and had a negative mindset. So when it hurt, positivity toward the situation and each other helped elevate us to a better headspace. Every day was an unknown adventure for us. The devoted partnership and presence is what allowed us to push ahead and ultimately succeed.
Pedaling north into Canada, the days were getting much longer, which allowed us to sleep late and ride into the early morning. During the evening hours the traffic would die down, and most importantly, the winds would subside. The varied landscapes and welcoming people of Canada made our slow travel delightful. On day 29, we rolled up on Smithers, the halfway point of our journey, and laid eyes on the snow capped peaks for the first time in far too long. We were enjoying a celebratory lunch when we were approached by a woman in her mid-60's who inspired us to the max. Introducing herself as Debbie Wellwood, she sat down at the bar next to us and, with a spark in her eye and jingle in her voice, asked us if those were our bikes in the parking lot outside. She began sharing stories from the wild bicycle adventure she'd just completed. Debbie and her husband, Lotar, had just gone on a bike journey of epic proportions where they rode to the southern tip of South America and back on recumbent bicycles from their home in Smithers, British Columbia. They were on the road for three and a half years before making it back to their nest in the jagged peaks of interior B.C. After our conversation at the restaurant, Debbie invited us back to her house where we continued to share stories.
When heading to the last frontier by bicycle or car, you have two route options. One is to take the busy and widely traveled Alaska-Canada highway. The ALCAN does not provide as much mountain scenery as the more remote Cassiar Highway. The Cassiar is shorter but offered us a lot fewer services, so we would need to carry more weight in food to make it through. We loaded up our bikes and set off on the best stretch of road we had encountered so far. We were entering bicycle touring nirvana, a wilderness experience on a paved highway. We spent our days slowly moving through the forest, soaking in the beauty of the landscape. We climbed up and over endless hills with vistas opening up before jaw-dropping snowy peaks. It felt as if it would go on forever. There were some hard days out on the Cassiar with lots of weather, headwinds, cold temps, rough roads, and I even got sick. None of it mattered. We were in the moment, living free, and finding beauty in the suffering.
The day before arriving in Whitehorse I got Giardia. We had not been treating our water and the beaver fever hit me hard. I knew I was in for it when I woke up in the middle of the night to the most unpleasant feeling. I spent the whole morning… well, you get it. I felt horrible and totally zapped of energy. I knew we had to move and I also knew that if I could make it the forty miles to Whitehorse I could get a hotel room and take a day off for my body to recover. It was by far the worst day of the trip for me. I would pedal only a few miles and have to get off my bike and lay on the side of the road. It was snowing, cold, and wet outside, making the 40 miles feel like 100. A warm shower and cozy bed was all the motivation I needed, and when we arrived, I slept for nearly 24 hours straight. After a day off I felt much better. I would have loved to hangout in Whitehorse and fully recover but we had to continue on. I was forced back into the saddle and back into pace.
A feeling of anxiety and dread crept into both our minds a couple days before arriving in Talkeetna. We'd learned that the Denali park road on the north side of the mountain was only open for the first half of the eighty four mile road. Our trailhead was at the very end, mile eighty four. Only buses are allowed on the road and they were not going to the end this time of year. We had to somehow figure out how to get all of our food for the thirty day climb out to the Wonder Lake trailhead and then somehow get our bikes shuttled two hundred and fifty miles back to Talkeetna to be ready for us once we completed our traverse. These were logistics that we had put off in our minds until now and the fearful thought of not being able to pull all this off was bringing us down.
Timing is everything in life and this moment was no different. We hooped and hollered loudly for the world to hear as we blasted our heavy rigs down the big hill that leads into the town of Talkeetna, AK. Our first stop was the local Denali Brewing Co. We had met the owner and founder Sassan a week earlier in Glen Allen, and he came to the pub to greet us and share a meal, beers, and many laughs. It was this moment when all of our feared future plans came together in an instant. I walked out to my bike to grab something when a man walked up who was curious about what we were doing. I explained to him our journey and he immediately hit me with the dreaded questions. How are you going to get your food to the north side and how are you going to get your bikes back? I had no reply other than we are here for a few days and the plan is to get all those logistics figured out. He smiled and looked away for a moment only to look right back and tell me that I had just met the only man that could make this come to life! I was a little confused at first, but quickly invited my new friend Justin to our table for a beer. We learned that Justin was the manager of the Denali Park bus system. Justin arranged for his friend Griz to pick up our food in Talkeetna and he would make sure our food was waiting for us in the bear locker at Wonder Lake.
A few days later we were at the Denali park entrance. After our last shower for a while we met a guy standing outside by our bicycles. Isaac from Australia had just begun his quest to bicycle from the Arctic Ocean to the southern tip of South America and he was planning to do 80% of the ride off-road. Distracted by his wild plans, we had an hour long conversation before realizing that Isaac was also headed out the park road to trek to McGonagall Pass.
Luck would have it that Isaac was keen to join us and help. I told him it would only take us a day or two to get to McGonagall. I sandbagged the shit out of him. With Issac's help it still took us five and a half days to double shuttle all of our gear and food to McGonagall Pass. This task involved some true suffering. We would carry 80 pounds of gear 3 miles only to sit it down and walk back to shuttle the next load. We did this for 14-16 hours a day and would only cover 3-4 miles. I felt terrible on day 2 when I realized how badly I had misled Issac. I actually thought we could shuttle the gear that much faster with his help, but at this point I finally came to realize that there was no way this was going to happen. I told him he could leave and that he did not have to help us. Why would someone suffer this hard for someone else's goals when they weren't receiving anything in return? Issac didn't mind at all. He was happy to be there helping us and his mindset never wavered. I couldn't believe it. We are forever grateful for Issac and his willingness to help us shuttle our gear across the rugged Alaskan tundra.
After 5 and a half days of shuttling gear, we finally crested the last hill and were standing on top of McGonagall Pass, where we said our goodbyes to Issac. Clay and I gingerly crossed the Moraine onto the glacier where we roped up and began our long slog to the lower icefall. Views on the north side of Denali are spectacular. The sun barely sets beyond the horizon before coming right back up only 30 minutes later. We were treated to endless hours of alpenglow light every night. We were forced to travel at night when the temps were cold and glacier travel less dangerous. We would try to sleep during the day when the warm temperatures make the travel dangerous on the glacier.
Our main hazard on the Muldrow Glacier was difficult route finding though heavily glaciated terrain. We were roped up the entire time while traveling on the glacier and were very cautious when navigating the lower and great ice falls. We had great success moving to higher altitudes because the weather was on our side. The Alaska Range has ferocious weather and is the single deciding factor for most parties. We were taking advantage of these calm days on Denali and moving higher every chance we got. The highlight of our climb came when we had to double shuttle the Karstens ridge at 14,000 feet. We skied the Karstens ridge back to our food cache early one morning under glorious light and fantastic snow conditions. Clay and I could not believe the beauty and blissful feeling of linking up steep Alaskan powder turns high up on Denali's north side.
Our only mistake on our climb came when we did a big push from 14,000 feet to Denali Pass at 18,000 feet. I got altitude sickness and was struggling to recover. Exhausted from the long day dragging heavy sleds at altitude, I fell asleep for a few hours and when I awoke my thrashing headache was gone. I forced down a half liter of water and a granola bar and told Clay I wanted to make an attempt for the summit. It was a cold but clear day up high in the Alaska Range. We were worried about the weather moving in on us the next day so we decided to give it a try. It was very difficult to breath at altitude and movement was very slow. We climbed the two thousand feet to the summit in a few hours and before we knew it we were standing on top of Denali overlooking the entire Alaska range! It was the most surreal feeling I have ever experienced. In just 84 days we'd traveled from our home in Salt Lake City, UT to the top of North America, all under our own power!
With joy and excitement we clicked into our skis and pushed off from the summit to ski back to our camp at Denali Pass and begin our descent on the south side of the mountain. Thankfully, our descent of the mountain was uneventful. We moved down to 17 Camp and then walked down the west buttress to 14 Camp, where we spent a few days relaxing before making our way to base camp at 8000 feet. We picked up pack rafts at base camp and attempted to packraft back to town. We downhill skinned twenty miles to the Pika Glacier where my feet had enough. I was on the verge of trench foot and was struggling to walk due to the rawness of my flesh. After a long conversation on the glacier Clay and I decided to pull the plug and call in a plane to take us back to Talkeetna. We flew out on June 21st, the Summer Solstice, and after a long shower and stuffing our faces we were back at the Fairview Inn listening to live music and celebrating until the wee hours of the morning. The perfect ending to an expedition I will never forget.
We made it back to Anchorage and packaged our bikes up at the local REI, where they were sent by freight to the lower 48. We spent a week in Girdwood meeting locals, exploring the mountains, and resting our tired bodies and minds before flying back home.
Trips like this often pass way too fast in retrospect, but in the moment they feel like they will never end. This trip was a true test of endurance and grit, and I am so thankful I was able to share this experience with Clay and all the fantastic people we had the pleasure of meeting along the way. Doing things that are really hard is good. It allows us to find something in ourselves that we didn't know existed and to push our boundaries beyond what we thought possible. Have faith in yourself and others and go chase after your wildest dreams. Eat good food, ride your bike, and be nice to everyone. Bon courage.
Cody Hughes is a multi-sport adventurer based in the Wasatch. You can find him biking, climbing, skiing, and running across some of the most well known and obscure peaks in the world.