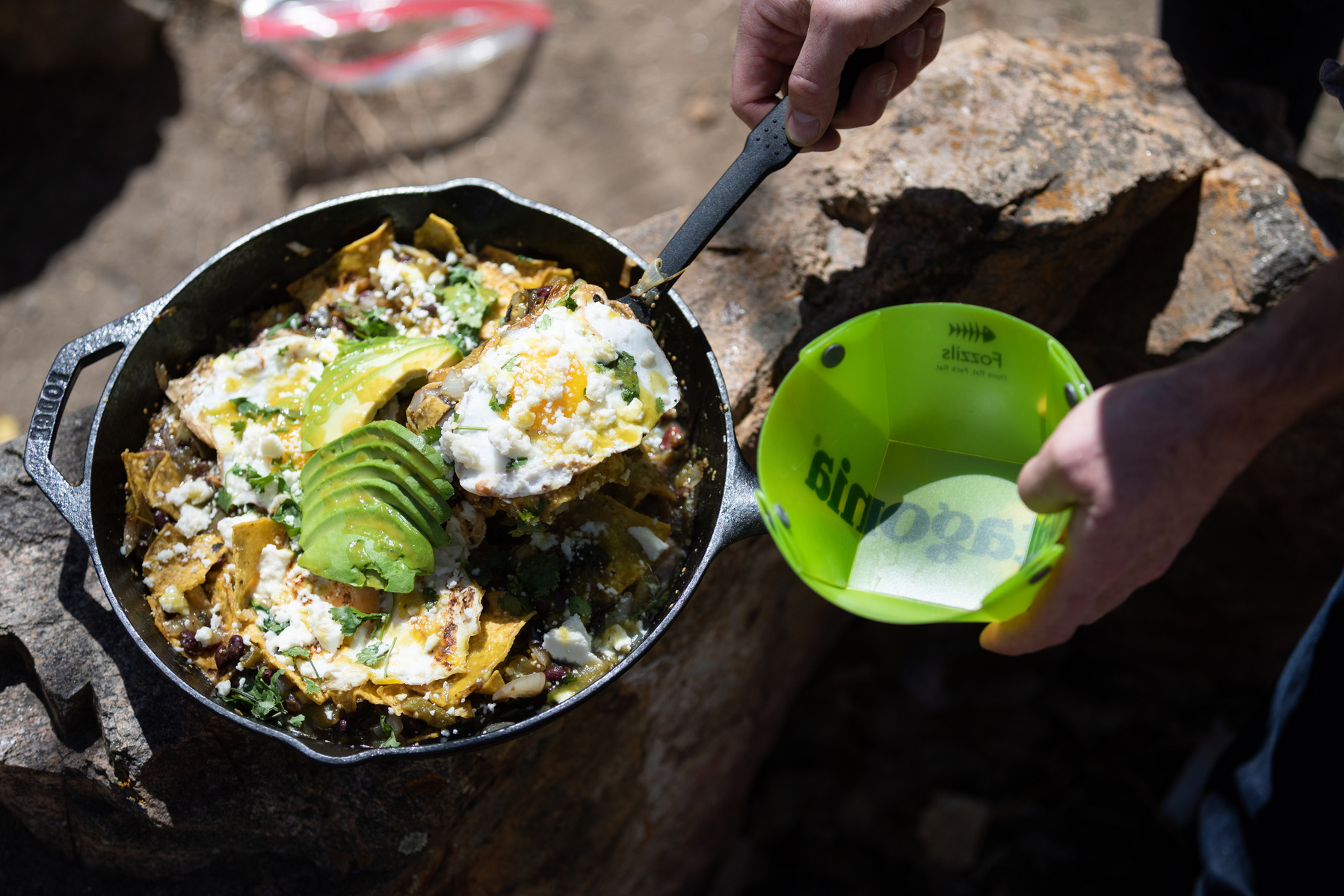 You're hours into your drive, heading on a much-needed camping trip with your friends. You're tired, hungry, and you just want to be at your destination. That bag of crushed up Cheez-Its stuffed behind the seat is calling your name, but that's what you ate last time and you surely don't want to go searching for it. The age old saying, "Are we there yet?" pops into your head and you can't stop thinking about dinner and relaxing around a fire with your friends. Suddenly, your friend says "Pull over here! This is the spot!"
Knowing that all of your friends look to you in these sorts of situations isn't some arbitrary accident — it's an honor. Your friends depend on you to fill that empty void they've been nursing with copious amounts of chips and gummy bears. You can't just say "Hot dogs tonight, everyone!" That is, unless you want to be met with groans and unvoiced disappointment. You need to pull out all of the stops. After all, it is the first night and all the ingredients are fresh!
Car camping is like any other form of camping, except you don't have to sweat and labor to have all the nice amenities. Let's call it at 100 yards from the car. Anything more than that and your friend misled you and guess who is carrying that 75 lb cooler to the campsite? The beauty of car camping? Everything is so close that you can *ahem* taste it. You don't have to plan out your freeze dried meals or perfectly time out your one "good meal of the weekend" when car camping. All meals can be good, even great! So, let's start with the meal that will set the tone for the trip — the first meal. Let them all know off the bat why they entrusted you with their hunger. Don't worry, there won't be any regrets, because you have an amazing meal up your sleeve that can go for either breakfast or dinner. When it comes to being comfortable in the outdoors, versatility is key. Now, let's throw down!


INGREDIENTS NEEDED
1-2 pounds of tomatillos
4 cloves of garlic (don't be afraid to go a little over)
1 white onion
2 jalapeños
1 poblano pepper
1 15oz can black beans
1 bag yellow corn tortilla chips
4+ eggs (scale up for group size)
Queso fresco
Lime
Avocado
Hot sauce (Preferably Heartbeat)
Cilantro (optional)
UTENSILS NEEDED

Large cast iron skillet
Non-stick pan (for the eggs)
Spatula

Knife
Cutting board


CONSIDER THIS: Prep the tomatillos, garlic, onion, jalapeño, and poblano at home, throw it in a big ziploc bag and voila, you've cut AT LEAST 30 minutes off your cook time. Just sayin'…


COOKING INSTRUCTIONS
Remove the husks from the tomatillos and put the tomatillo, garlic, onion, jalapeño, and poblano over the fire or in the oven, if you're doing the prep at home first, and let the items start to char.

TIP

: You are looking for the tomatillos and the peppers to collapse in on themselves. That tells you they are roasted properly. The tomatillos will be juicy!
Cut up the tomatillo, garlic, onion, jalapeño, and poblano coarsely or finely, depending on preference.
In the cast iron skillet, add the tomatillo, garlic, onion, jalapeño, and poblano mix and heat up over medium-high heat. Add a squeeze of lime juice and some salt, mix to combine and let it heat to a slow bubble.
Once bubbling, remove from the heat and set aside (keep it in the skillet).
Heat up your non-stick pan and cook each egg sunny side up or however you prefer (not scrambled).

TIP

: If you want the eggs to be separate from each other, do each egg by itself or two at a time, if your skillet is big enough. Place the cooked eggs on a cutting board for the time being.
Right before the last egg is done cooking, add about 2 handfuls of tortilla chips into the tomatillo mixture. Carefully fold them into the mixture and let it sit to soak up some juices. It will look weird at first, but the chips will soften just a bit.
Once the eggs are done, put the tomatillo mixture back onto the burner or fire and add the drained can of black beans. Fold the black beans into the mixture just enough to mix them in.
While the tomatillo/bean mixture is heating back up, place the eggs on top of the mixture.

TIP

: Once the eggs are on the tomatillo mixture, do not mix anymore. So make sure you give a little bit of time to heating up the mixture a good amount.
As the mixture is finishing heating up, add crumbled queso fresco, torn cilantro, avocado, and a healthy dose of hot sauce if you are using any of it.
Dish out the food, sit back, and relax. You just made everyone's day.


Brian Flick
When he's not climbing, skiing, or trail running, Brian can be found building out menus for fictitious restaurants or baking cookies for friends. Proud achievements include summiting Longs Peak, delivering solar lights to remote tribal villages in Thailand, and listening to an entire audiobook on quantum physics during a half marathon.