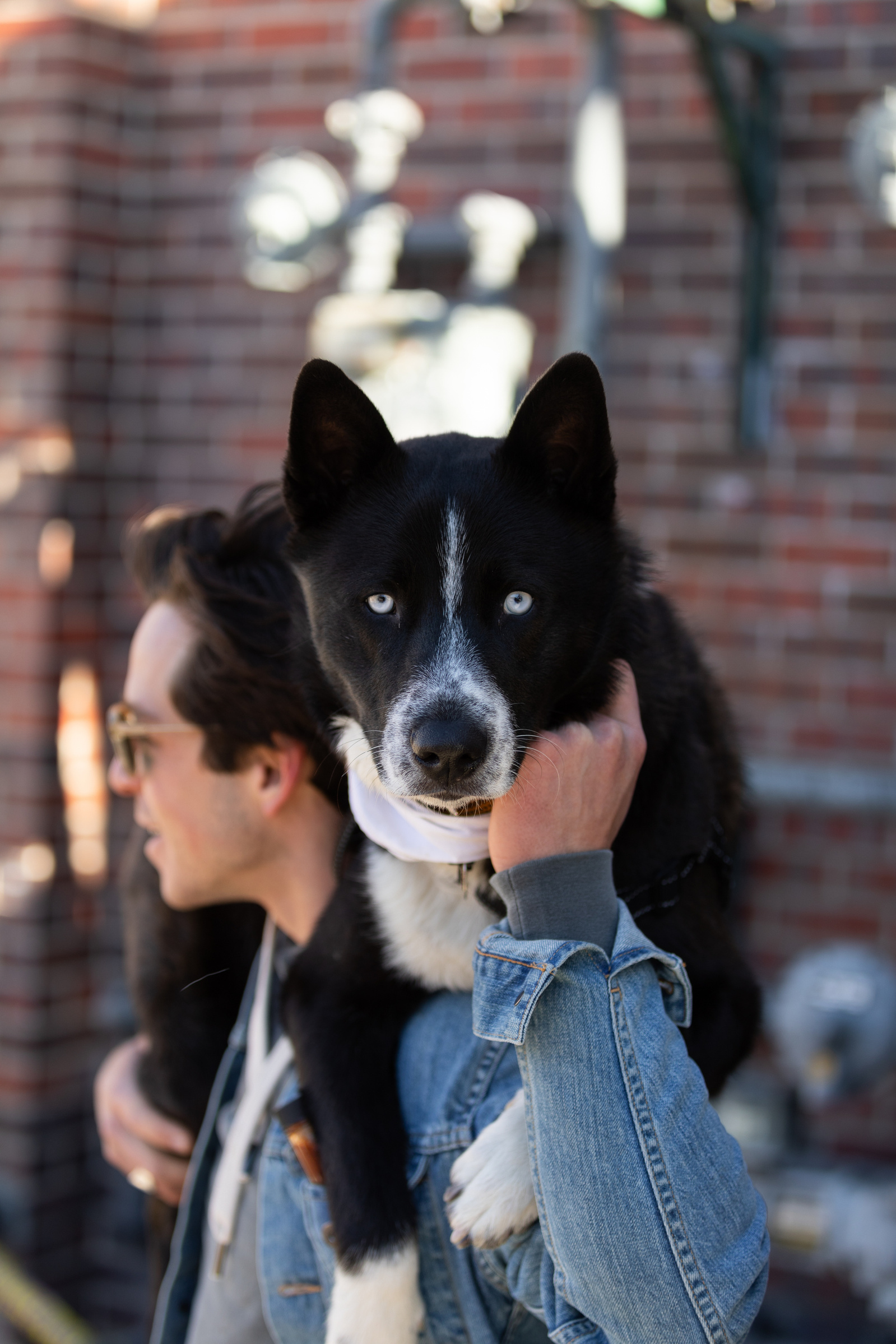 I'm in Montana, watching Stetson run out onto a frozen lake, skittering and sliding across the most ephemeral of surfaces. I call him back, and he comes running. What an interesting concept, I think, to answer to something; before I found Stetson, I never had to answer to anyone but myself.

For nearly the last decade, I roamed the American West, climbing the tallest and most remote peaks I could find. I slept in the back of my truck more nights than not, bouncing from range to range and chasing seasons, climbing in the desert in spring and fall, skiing in the Rockies and the Sierra in the winter. I often joked to friends that the only things relying on me were my plants. That's true, but it's equally true that these were the most wild and free years of my life, years I wouldn't trade for anything. I climbed all 58 Colorado 14ers, big peaks from the Grand Teton to Orizaba (we didn't quite summit, but that's another story), and made the absolute dang most of my time with the best people I know. Eventually though, my luck ran short.
When things fell apart for me, I was living in Mammoth Lakes, CA, situated at 8,000 feet on the dramatic Sierra eastside. I'd moved there for a big project, an attempt to set a speed record on California's 14,000-ft. Peaks, linking them all up under human power. That didn't go to plan, and neither did the rest of my California chapter. All around the same time, I tore up my hip in a skiing accident, broke my hand in a separate one, went through a drawn-out, rough breakup, and found a man dead in his car. I moved down to San Diego to get hip surgery, waking up with a new right hip 3 weeks before my 28th birthday, and did the rehab in a converted office at my aunt's house in Encinitas, crutching around the sun-drenched San Diego coast planning out the next chapter. 2021 was a bad year, but I knew from my time in the mountains that I just had to ride out the storm; If I could learn from and embrace this period of difficulty and pain, more glorious and meaningful summits awaited.
4 months post-op, I was healthy and strong enough to limp my way back home to Colorado. Still babying my hip, I set out on a month-long road trip, covering the entire California coast and Oregon, visiting family and old friends along the way. The day after Christmas, I pointed my truck east and worked my way through Arizona and New Mexico in no hurry, soaking up the soaring, open landscapes that make my heart beat the strongest. My truck was loaded up with everything I own: 2 bikes, running, climbing and skiing gear, clothes, and a whole lot of books. I'd made one notable exception, leaving my beloved plants behind in San Diego. Something told me it was time to start fresh.
I stopped in Santa Fe for one last night on the road, planning on doing some writing and reflecting at a quiet cocktail bar. Before I knew it, a local band arrived, I made some friends, and the night turned long. When I woke up in my hotel the next morning, I'd overslept my alarm and the winds were blowing in a historic storm, so I took the long way around, drinking my 3rd cup of coffee on the blown-out plains of the I-25 corridor. With my hip screaming for a break, I pulled off in Wagon Mound, New Mexico, pop. 268, stepping out to stretch and accidentally tripping into the next chapter: that's when a young husky limped up to me on 3 legs, so dirty I wasn't sure what color he was underneath the grime. He sported a belt secured with painter's tape around his neck as a makeshift collar, and happily scarfed down a McDonald's hash brown while I looked around for the owner. "He comes here for food," the teenage girl working the service counter informed me. She didn't know who the owner was. On the moral fence about stealing a dog, I walked around the windy streets of Wagon Mound in vain, not sure what I was even looking for. With no sign of the owner (no sign of anything, really, in Wagon Mound), and the storm making its way closer, I made a difficult choice: leave my cell number at the gas station and hope the owner somehow got it. I knew deep down this dog and I were supposed to be best friends.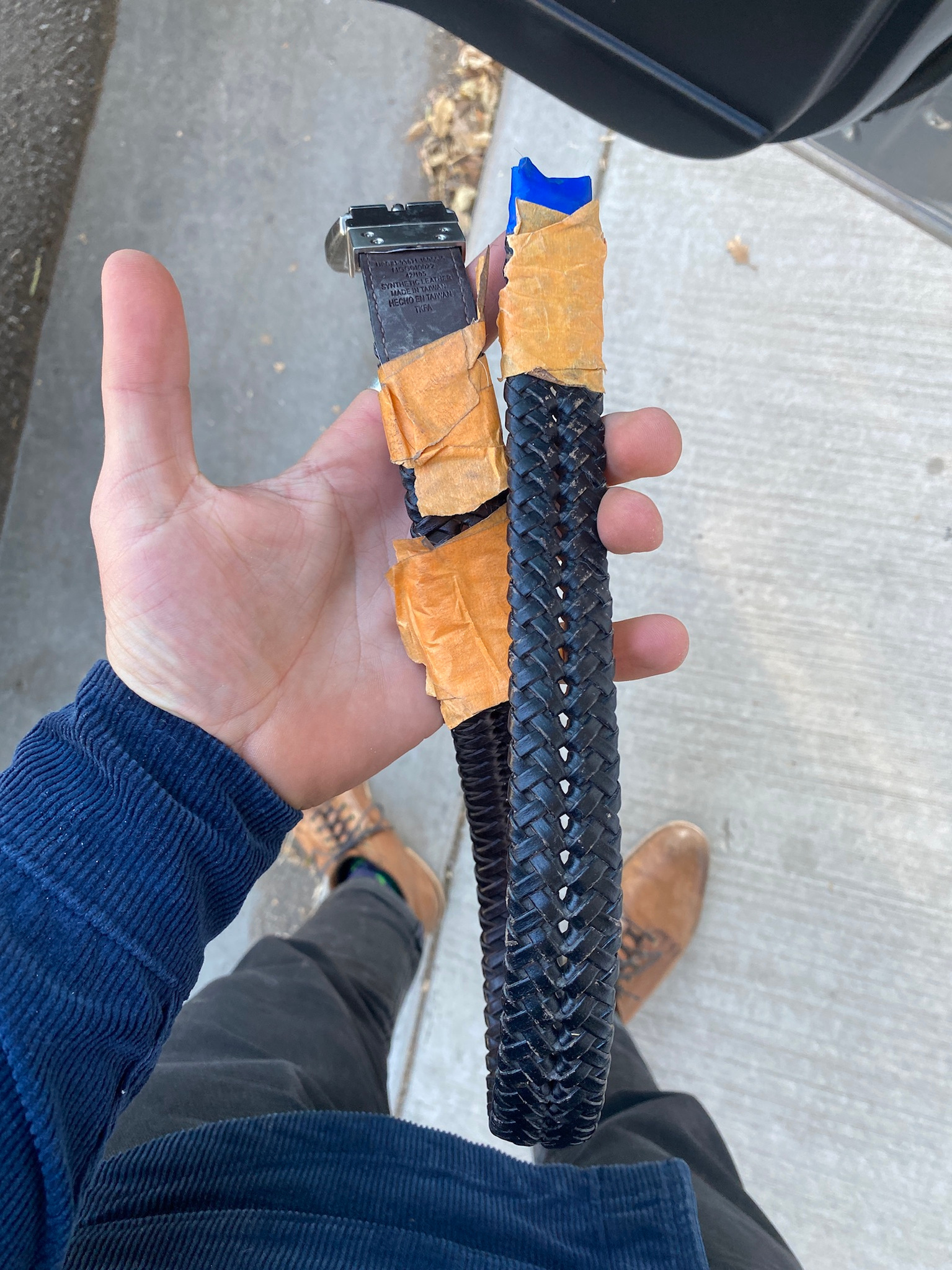 After a sad goodbye, I hopped in my truck and pulled out just as another car swung in; I watched in my mirror as an elderly woman tumbled out and called for the dog. Nearly stupefied with my luck, I ran over and demanded the story. It was her daughter Jennifer's dog, she explained. I implored, "Call her. Please." She did, and I got the full story from Jennifer herself: Only 6 months old, the dog belonged to Jennifer's stepson, who'd been living with her while he got back on his feet. Then he relapsed, leaving for Texas and going dark. They hadn't heard from him in 3 months. The dog had been hit by a car (explaining the limp), and she didn't have the means to get him to a vet, never mind that Mora County, NM doesn't even HAVE a vet. In tears, she declined my offer of money and told me to take the dog, asking only that I give him a better life. I cleared the front seat of the truck, loaded him in, and we hit the road to Colorado. It was the last day of the year.
Since we teamed up, he's also been to Colorado, Arizona, Wyoming, Montana, and New Mexico (again – and yes, we stopped for some fresh air in his old hometown). It hasn't all been mountains and fun, though. As it would turn out, my gas station husky needed just about every vet treatment imaginable for a clean bill of health: vaccines, heartworm meds, owner chip, a splint for his damaged leg, flea and tick shampoo, and of course a neuter. He's destroyed just about everything he can get ahold of, including but not limited to garden sprinklers, Tibetan rugs, and any unfortunate stuffed animal I sacrifice to him. He also earned his name, Stetson: on our 3rd day together, he emerged from his 48-hour nap and ate my beloved Stetson hat. After 6 months fending for food on the streets, he had absolutely no manners, and has slowly learned how to eat from a bowl, play nicely with other dogs, and go to the bathroom outside. Typical rescue dog stuff, yes, but a whole handful of new challenges for an owner that spent their twenties with little responsibility and ultimate freedom.

Since I rescued Stetson, I've been going through changes, too, carefully building my lifestyle around morning walks and play time; I've curtailed my nomadic ways ever so slightly, planning trips efficiently and tweaking itineraries so I can be home to care for him. The changes aren't all logistical, though; the most important ones are lasting. For the first time in my life, another being depends on me for food, water, shelter, and love. After my hard 2021, ending the year with a new beginning, one I didn't expect and wasn't looking for, feels very symbolic and… right. I'm leaning into my new role, learning from Stetson everything he'll teach me: patience, selflessness, and an appreciation of pure, unbridled fun. When we met, we were both a bit untamed and rough around the edges, but we've jumped headfirst into this new chapter together, one for which we couldn't have planned. In spite of that – maybe because of that – we're doing our best, skittering and sliding our way through each new challenge. Like so many perfect, beautiful things, our accidental life hinged on pure chance, a moment as ephemeral as lake ice, summits, and storms carried in on the wind.
— Connor Koch